After brushing my teeth, the first thing I used to make was Masala Tea for myself at 5 am morning and then only I used to start my cooking work in the Kitchen for 31 years by the time of writing this post (April 8, 2019 Monday)
From my Childhood to Until August 7, Tuesday 2018, I drank my morning tea after brushing my teeth first thing in the morning without skipping a single day, because I was badly addicted to it.
It came in my mind many many times and tried many times before as well, but was fail to quit my morning tea after trying it couple of times!
This time I was mentally enough strong to quit my morning tea forever, still it was hard, but today(April 9, 2019 Monday) successfully I completed my six months of quitting my morning Masala Chai and I'm certainly confident to quit my 100% Black Tea one day forever, because still I take two Cups of Tea in the day time.
Why I quit my morning tea?
I quit my morning tea after drinking it continuously without skipping a single day for many decades. Despite of doing so many good things such as Yoga, Meditation, walk and more healthy Diet, I used to feel low of Energy and legs Pains all the time.
Almost 4 years ago, I planned not to take any medication and even Supplements to improve my health and I have seen my health became much better than ever before at the age of 54.
Now I feel equal Energy like I used to feel when I was 30 years old young lady. Now I want to see more benefits, so I planned to quit my morning tea, because Black Tea has so many side effects that are written below:-
Side effects of Morning Tea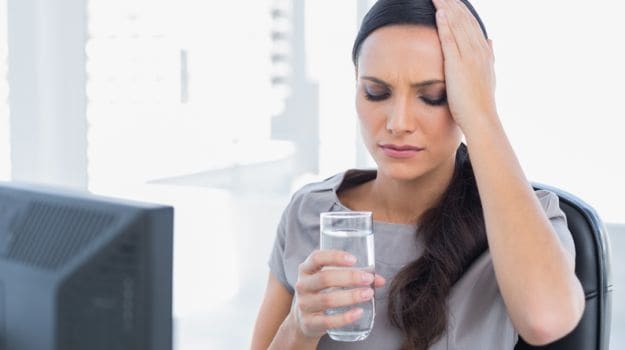 Urge to drink immediately after morning wake up
You'll have headache if you don't drink it and feel very disappointed
Caffeine is the basic ingredient of black tea; so, if you consume it on a daily basis, it can result in diarrhea. The reason behind this is, the caffeine stimulates your digestive system. Therefore, if you drink this tea in excess, it can have a negative effect on your health.
black tea contains caffeine: So once these elements reach your stomach, it causes your stomach to produce various acidic substances, which are not easy for your body to absorb.
Regular consumption of black tea is well known to discolor your teeth over the time
If you truly drink tea in excess, stomach cramps, excessive gas, nausea and other gastrointestinal upsets are among the most common side effects you might experience.
Iron absorption is one of very few areas in which limited tea consumption can cause real problems
Question: Am I quitting 100% Caffeine ?
Answer: No, because instead of quitting caffeine all at once, I am gradually reducing the amount of caffeine I was consuming daily.
I used to take 7 Cups of Tea Daily & gradually Reduced it. Now only one cups left for a day.
I used to take 7 Cups of tea daily include one Coffee for a day and used to eat a lot of Processed food.
Doing Yoga and Meditation for last 21 years, got so many benefits, but still my diet was not good, so I didn't get that much benefit despite of doing regular my morning evening practices.
Then I started to make improvements in my diet around 8 years ago by the time of Updating this post(April 9, 2019) and I have seen my overall health is improved a lot with the diet and now only 2 Tea Cups a day left and within one year I am going to quit 100% Caffeine or take only one Cup of Tea for a day!
Black tea is made from the leaves of a bush called Camellia sinensis. A process called oxidation turns the leaves from Green to a dark brownish-black color.
Oxidation means the leaves are exposed to moist, oxygen-rich air. Black tea is a fully oxidized tea.
How I feel after quitting my Morning tea forever?
I feel really confident inside to do more good things for myself
First thing now I drink is Copper Water (means kept water whole night in a Copper Jug) and with the gap of One hour, after finishing my morning Yoga, I drink Spinach Juice and this Juice you can make in blender.
I save time and do finish my morning kitchen work early than before
Now I feel more alert day time than before
Easy Tips to quit Tea/Coffee addiction
Get mentally Ready: Too much caffeine can do serious damage to your system. If you're constantly sipping on your caffeinated drink of choice, it's probably time to slow down and help your body return to a more normal state.
Choose a replacement Green Juice: If caffeinated drinks are an essential part of your day, you might need a replacement healthy drink. For example: Coriander Juice, Spinach Juice or Orange Juice. Even you can eat fruits in the morning, if you don't have time to make your Juice.
Drink more water — it is the healthiest and best choice. Switch things up with healthy homemade fresh drinks.
Regular intake of water will help your internal organs to detox and will keep your body steadily hydrated.
Take more Rest: For some people Caffeine is a way to combat too little sleep and a lack of Energy during the day. Make sure as you are quitting caffeine that you have made it possible to sleep as much as you need each night and do some Relaxing Yoga Postures and Meditation. This will help your body reset and get used to your new caffeine-free system, which takes a while.
Be ready for Quitting Tea/Coffee symptoms: Depending on how much caffeine you drank, your body might be at risk of getting a shock with the change from daily caffeine to no caffeine or very less Caffeine. The following caffeine withdrawal symptoms are possible and can last for a few days after you have stopped caffeine. Such as-Constipation:-Certainly now my diet is better than before, but I had Constipation second and third week after quitting my morning tea. Headache: You can have headache and I faced this problem as well. Weakness and tired: You can feel very weak and tired in the day time and sometimes actually I was so tired like no energy at all and sometimes more alert. There were so many changes in my body in these days.
Make yourself Busy doing Something: Always make yourself busy doing something physically or mentally. Don't listen to your mind, do what is good for your body and mind
Consuming any kind of Caffeine is bad for our health. Such as Tea and Coffee. Taking the Step towards doing something good for your Body is always the good decision. According to my opinion, Never it is late, start today to stop your addiction and don't let these bad drinks to overpower your mind and Body. Free yourself from these kind of addictions and consume Healthy food, that's what I learned through my own experience by doing it personally and watching Videos about healthy diet. Still there is long way that I have to do. Thanks a lot for reading this Post and please share it with your friends, so this post might be helpful for others to quit their morning tea.
My personal morning tea quitting story