Beginner's Guide to Start your own Website
I used to get Emails from my Readers of Ease bedding Dot com, 'How I'm making money and they also want to learn How to Make Money with Affiliate Marketing?
Here in this Blog Post, they can get all answers and if you still have questions, you can ask in the Comment Box Below
Here in this Guide I'm going to teach you, what I learned from trying different things, since I'm blogging and it's almost Seven years. I'm going to write down all my experiences. I made so many mistakes that also I'll share here, which you can avoid to get Success fast in Online World to Make Money.
Those Steps, I'm going to share here, exact the same way, I created my all Blogs. So follow this Sequence, then you'll Set up your Blog very quickly.
To Get Started, you need Credit or Debit Card & 30 minutes to Setup
We assume that you want to Start a Blog, not only a Blog, but how and where to Start a Blog? How to Monetize your Blog and Make some Extra Cash with it for your Pocket Money?
That's Great!
The easiest way to Build a Pretty Website/Blog like 1-2-3!
Choosing the right platform is the most important part of the Blog while starting your Blog. It's kind of Buying your Home on good location, because location is most important thing in the Real estate.
I will say Platform of your Website is also equally important. In my opinion, WordPress Platform is Really Really Simple to Use.
When I started Blogging, I knows nothing about WordPress and today I'm having my own Three Blogs with WordPress.
Creating a Modern Blog is Easier and faster with Site Ground!
What is Blog?
In simple words, regularly Updated Website or Web Page, typically one, that is run by an individual or small Group, which is written in an informal or Conversational Style.
A Blog (a truncation of the expression Weblog) is a Discussion or Informational Website Published on the World Wide Web consisting of discrete, often informal Diary-style text entries ("Posts")Posts are typically displayed in reverse chronological order, so that the most recent Post appears first, at the top of the web Page"
Two Ways to start your Blog!
Because Blog is is so popular nowadays, so finding the Best Platform for your requirements is most important.
In my opinion, the Platform should be Easy to Use and at the same time it
should provide you with the Customization Tools, which you're looking for to give your Readers everything, what they need to Read and Interact with your Blog.
Even there are some platforms, which Provide both, Free and Paid Services.
This comprehensive Guide will explain about Free and Paid(Premium) Blogging Platforms, so Please keep on Reading…
Two Platforms to Make a Blog
Free Platform
Premium Platform
First we'll discuss here to start a Blog for free. Free is not a bad idea at all.
Sometimes even we want to do something, just as a Hobby or to learn some Skills.
Then no need to spend your Hard Earned Money. As I started with Free Platforms, learned and then moved to Paid Platform.
Free Platforms to Start a Blog
There are many free Blogging Platforms, where you can start your first Blog and learn some Skills to grow it as a Profitable an Online Business.
Yes, please note that while using Free Platforms, there are some limitations as well.
WordPress.com
On WordPress.com, you can start your Blog entirely Free of Cost with a little Customisation. WordPress.com is not directly related to wordpress.org, which is one of the Most Popular open Source CMS Software.
There are many Limitations to WordPress.com.
To Increase the functionality, you can not install Good Plugins on your wordpress.com Blog, which is one of the Best Features of using WordPress.
WordPress.com is pre-hosted Blogging Package, which you don't need to Host and of course you don't need to Buy a Domain Name for it.
Instead, you'll get a SUB-DOMAIN on the WordPress.com. This means your Blog Name would have WordPress.com at the end. For Example-Yourblog.Wordpress.com
So starting a Blog with WordPress.com is Easy, because you don't have to Buy Hosting, Buy Domain and even Install the Software. Despite of doing all this work, you've to Sign Up for an Account with WordPress.com and you can Start Blogging in no time.
But many Users, who don't like the limitations, they switch from WordPress.com to Self-hosted WordPress.org
I started my Blog at wordpress.com couple of years ago, learned a little bit, but got no visitors at all to my Blog. Then I Stopped.
Blogger.com
Publish your Passions, your Way, where you can Create a Unique and Beautiful Blog, which is not only Easy, but also Free!
The beauty to use Blogger is that, by doing things, you can learn about Blogging and even Make Money at the same time through Adsense and Affiliate Marketing(such as Amazon and many more)
I created two Blogs on Blogger.com and both started to get good amount of Traffic and I made my first Check from Amazon $132 and then what happened? I thought why not make my Blogs look more professional and I changed the free domains to Premium Domains. Means to dot com.
But I didn't redirect the Traffic. Due to that all traffic became Zero. It happened due to the Lack of Knowledge.
At that time I was just beginner, still I'm not that expert, yes now I knows little bit more than that time and being frustrated, I stopped at that point.
Luckily, I saved one of my Blog, which was about Christmas Bedding Sets
and after the gap of almost two years, when there was again urge to write something or start something, then Ease Bedding Blog was launched and it is bringing around $500-700 monthly with only one type of Monetize method and that is Affiliate Marketing and only until now it is Amazon.
So this way, I have learned a lot about Blogging along the way.
The most important thing, I learned is that, if you do hard work and pay attention on 'what you're doing, then you can Succeed not only in Online Business, but I will say, you can Succeed in anywhere in any other field in the World.
To create your own website, you don't have to be Tech Savvy, even I knows nothing, when I started on Squidoo, almost Seven years ago.
Sometimes you get your Domain for free of Cost, when you Buy your Hosting with SiteGround, but not all the time.
Even I got few emails from Companies to promote their Products, but I am focusing on only at Amazon, because People love to Buy from Amazon due to Great faith on their Products.
From the first month Ease Bedding Blog, started to make little Money, because I Imported Blogger Blog to easebedding.com. So there was enough Content to get Traffic quickly.
Up to six months, it was making only around $25 to $30 monthly, then in sixth month $120, then again $70 and after that over $500 monthly and even in October, 2016, it made close to two Thousand five hundred Dollars in one Month due to Festivals Season- Christmas Holidays.
Why I am telling you all this, because, about Blogging, I learned a lot from Squidoo and then Second from Blogger.com
Yes, there is very big drawback of using Blogger.com and that is, they can DELETE your Blog any time, even Sometimes without knowing, someone makes any mistake to break their TOS( so please read their Blogger Content Policy).
Tumblr.com
Tumblr is so Easy to use and has a Dashboard, which provides a live feed from Blogs that the user is following. Each User has his own Tumblelog, where they can Publish Short Posts of Text, Images, Quotes, Links, Videos, Audio and Charts.
Tumblr lets you Create Static Pages; for example your own Questions Page that people are automatically taken to when they ask you a question.
Tumblr is FREE to use.
So everyone from Celebrities to Teenagers are using Tumblr.
Tumblr is Great for people, who prefers to PUBLISH Quick Multimedia Posts, especially from their Mobile Devices.
To Register and start Using it, you need Valid email Address, Password and a Username.
Registration gives you the Access to the Basic FEATURES of TUMBLR at no Cost.
Tumblr is known for Informal Micro-blogging, which is longer than a Tweet, but not as long or Professional as a Full-Blown Article or Post.
Why you Should not have Blog on free Platform?
If your WordPress Blog is Self-host, then you have full Control over your Website and Content
Free Platforms can Shut you down anytime
You're not allowed to Advertise on most free blogging Platforms
Starting a Blog on Self-hosted WordPress from day one is much more easier than trying on free blogging Platforms and then moving to, which is time consuming and also a headache.
Setting up a Blog like this one is way Easier and less Expensive than you might think
Benefits of Having a Blog
Blog can become a Great Source of Income
Blog keeps you Busy all the time by writing Posts/Pages, Reading etc, which will help you to stay healthy. Here you're doing something good, investing your time to make your Blog and even not only making yourself Busy, but also helping others by teaching them, which can help them to Buy something useful from your Blog or Learn something new.
You can make New friends through Blogging and you'll never feel alone. You're talking to your Readers, through emails, through comments etc.
Believe me since I'm having my Blog and I started to learn about Blogging, I don't go to Doctor's Office like before, because now I don't want to waste my time for sitting their and waiting for them to write any prescription. I do Natural things to Stay Healthy; such as Yoga, Meditation, Walk, Healthy Diet(Learn Recipes with Videos) by Cooking myself and rest all the time spending on my Blogging Business, which is really good to do, because now I am making good Amount of Money from my Blogging Business!
If your English is not Good and English is your Second Language, your English also improves, while writing and reading. English is my Second Language, so I can say by my own experience that it improves!
It is Easy to Design a Blog with WordPress and Designing a Blog can be an Excellent Source of Part time/Full Time Income
You should start a Blog and it is Easier than ever before and the wonderful thing about the Blog is that you can write anything. Anything means, you can even express your thoughts by writing them and it can release your Stress.
You can also extend your Blog into an Awesome eBook
Your Blog can be very Profitable for you, because there are some Companies, which will pay you just for Trying out a Product, Reviewing Goods or Services!
Some Reputed companies willing to Pay you a lot of Money for your honest Review and this is another Way to Start a Blog to write about Product Reviews
Once your Blog is established, you can sell Stuff
You can Start a Blog to Make Video Tutorials, where you can Review Products or Teach something is another Way to make some Money
You Can Start a Blog to Provide a personal Teaching. If you're gifted enough to know Multiple languages. So why not use these Skills for your Advantage and Make some Extra Cash. So you can Create A Blog advertising your Services and Method of Teaching. Depending on your Students' preferences, you can Assist them Online through Skype!
Start a Blog and Become an Affiliate Marketer. Simply Put Affiliate Links or Banners on your Blog Pages/Posts and even Banners on Sidebar can help you to Make Decent Amount of Money. So there is huge possibility to Earn some Extra Cash through Affiliate Links. Did you know there are so many Companies, which have Affiliate Programs; such As Amazon Associate and many more….
Creating a Blog is an effective Way to address your Customers' concerns, keep them up to date on trends affecting your industry and help them address problems, which they are facing in their Business. You'll Build Trust with Readers by providing Real Value!
Blogging is a Marketing Investment in the long run.
You can get more Clients to your Existing Business with a Blog, because regularly Updated Blog can produce a Constant stream of Good Leads from all around the World.
Anybody, who wants to share his expertise can start a Blog. And over time when you write more posts and Share more and more your expertise, your Blog become Popular in your Audiences.
Good Blogs help its Readers by offering different kind of information
Starting a Blog is so Cheap even with few Dollars, you can start it and Start your Blog today with Site Ground
The Big Advantage of starting a Blog is that it is extremely Profitable!
You can Start your Blog from any Corner of your Home, because you don't need a lot of Space to start it. Just need small Table to put your Laptop and you're ready to launch a Blog, which is going to turn in long run a Profitable Online Business.
Overall Blogging Opens Intangible Doors, which benefits you in the long run
Whether you Blog is to express your Passion for your Hobbies or Blog to help Promote a Business, Blog is a Great Way to connect to the Real World these days
Start a Blog with WordPress to Make Money
Here in this paragraph, we're not talking about wordpress.com, but WordPress.org
I am trying my best to give all the Instructions Step by Step to Walk you through every Detail.
To Start a Blog, you need Computer, Internet and basic knowledge of Computer Skills.
Yes you should be ready to invest your time to work for your Blog, read others' Blog Posts/Pages, write Comments etc.
While doing all these things, one day you'll become an Expert Blogger.
If you're ready to do all above things, then you can have a Popular Blog very soon…
WordPress.org
WordPress is popular Blogging Software and a Content Management System.
Whether you want a Personal Blog, a New Website or full Fledged Corporate Website, WordPress can be used to Create that Website.
Even more than 23% of Websites are powered by WordPress and I love myself it a lot, because it is so Easy to learn and use as well.
WordPress is so Easy to Use and very Simple to Set Up. Once you start your first Blog and start using it, it will take some time to getting used to it.
Once you learn to use it, you can Create all sorts of Websites with it!
There are a lot of guides Online, which you can follow to know exactly What WordPress is, What it does, how you can benefit from it and How you can Start Using it.
With WordPress.org, you host your own Blog or Website, as I am using WordPress.org for my both Blogs.
WordPress.org is that, where you can find the Free WordPress Software, which you can download and Install on your Own Web Server(for example my hosting Company is Site Ground) for my all Three Blogs.
On the other hand WordPress.com takes care of all of the Hosting for you. So you don't have to Download Software, Pay for Hosting or even manage a Web Server.
Why to Make Website with WordPress.Org?
WordPress has hundreds of Free Themes and even Pro. It is up to you, if in the beginning of your Blogging Carrier, you don't want to spend Money, then better to choose Free Theme and when your Blog is getting more Traffic, then you can change it. As I started with Free Theme for my Ease Bedding Blog and after six months, Traffic was increased and my Blog started to Make over $500, then I switched to Pro for the same Theme
There are so many Free and Paid Plugins available with WordPress.org to increase the Functionality of your Blog and make it look more Professional. Until now, still I am using all free Plugins.
You can Create any type of Blog; such as-Personal, Fashion, Bedding, Gardening, Toys, Games, Photography, Food, Fitness, Recipe, Sports, Luggage, Electronics, Blogging, about everything etc.
Steps to Start your own Website
STEP ONE: Start Blog with With SiteGround
Why to use Site Ground Hosting Plan?
Site Ground has Awesome WordPress Tools For fast development and easy management of your site:-
1-Click Installer Launch your website with a click. On all plans
Auto Updates Always have the latest WP version. On all plans
SuperCacher 3 levels of caching for an ultra-fast site. On Grow Big & Go Geek
WordPress Staging Easily test and deploy changes. On GoGeek & higher
Git Pre-Installed Interface for Git repo creation. On GoGeek & higher. Even they have Best WordPress support, speed and security!
We Assume, you're ready to Buy your Hosting Plan from SiteGround,
👉Then GO HERE, Buy the Plan, which is suitable for your Blog needs.
If you're Beginner, then StartUp is the best option to choose, which is very Cheap to start and have your own independent Blog.
As you'll get more Traffic and your Blog will establish, then you can move to higher Plan as I did.
SiteGround has three plans and one can sign up for any of them with a great discount through my ? This Affiliate link (just click on Affiliate link and follow along).
The StartUp plan is perfect for people with one website, means who are just starting as beginners, then the Price is very low and one can Afford it very easily
The Grow Big plan is a great value for money offer, including the option for multiple websites and the Super Cacher that greatly improves a WordPress and Joomla website speed
The Go Geek plan is perfect for people with e-commerce and larger sites, or more geeky development needs like staging and GIT integration.
Please Note: If you Signup with Site Ground using my Referral Link, I will earn a small commission at no extra cost to you(in fact you'll save some Money).
We would get this commission by recommending SiteGround Hosting.
I am recommending it because I am using it personally and really I love it due to fast Service and so many other good things.
I hope, you'll Buy your Hosting with my Referral Link and grow your own Blog there like me.
Choose your Hosting Plan!
Tips While Choosing Domain Name
Domain Name of your Blog should be Easy to Type, not complicated or too long
Domain Name should be Short and make it Pronounceable
Don't Use other Company's Brand Names or Trademarked Slogans
Make sure that Blog's Name Make Sense.
Try to avoid Numbers and Hyphens, because it makes hard to explain to others. Simple and Short Names that have no Numbers and Hyphens in them are more Easy to Remember.
By keeping all above Tips in your mind, then Search for Domain Name.
Choosing Domain
Clients can choose to buy a new domain, or even sign up with an existing domain.
This is a good place to emphasize the free website transfer that is included in the Site Ground hosting service.
When I moved from Hostgator, I got this great service Free to transfer my Website on this Hosting Plan.
Review and Complete your Order
Step 2: Install WordPress On SiteGround
After the WordPress Software installation, you get no reply message from Site Ground and above picture!
If you find difficulty to install WordPress, then submit the Ticket to Site Ground from user area, they will install it for you!
They're very helpful!
Their customer Service is so good, that's why I am recommending this hosting SiteGround.
Try, you'll definitely love it!
You can also take Advantage of their Video Lessons and with those Lessons, you can Learn more about WordPress
So let's say you're going to buy Hosting from siteground and then install WordPress on your Siteground account
Now you can start adding content and manage your Website Design anytime from your WordPress admin panel. To go ahead and start managing your website, simply use your Credentials
Then you will see there Dashboard, Media, Pages, Comments, Contact, Appearance→ when you'll click on Appearance, there you can see Themes, from there you will be able to change the Theme according to your own choice.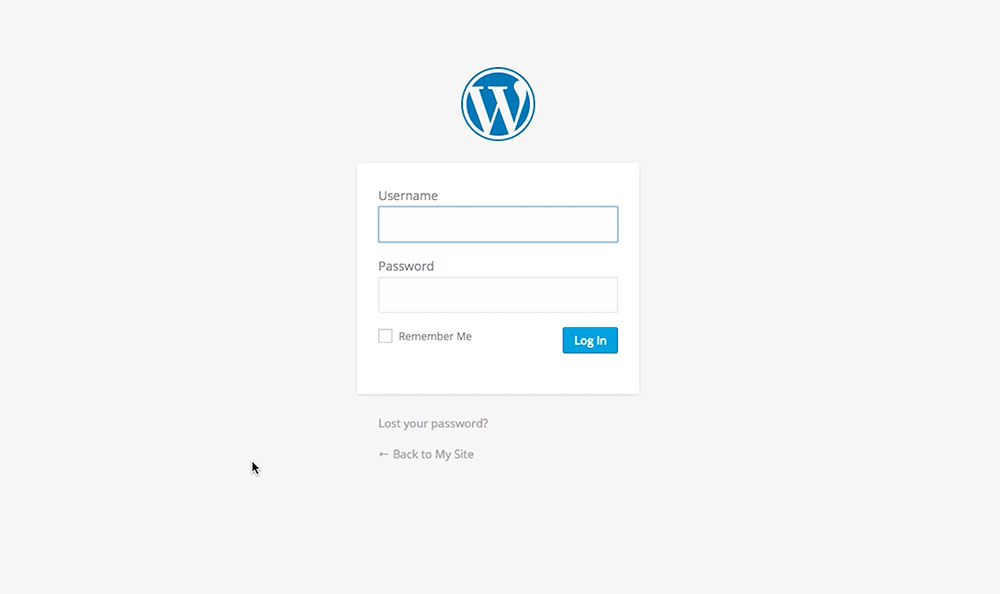 Step 3: Start Blogging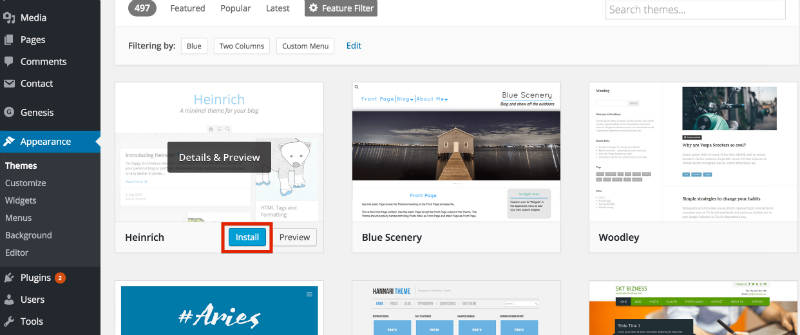 Now the real Blogging work starts. There are Pages and Posts to write. As saying goes, 'Content is king'
Writing Blog Posts and Pages
Write valuable Content, which is Unique!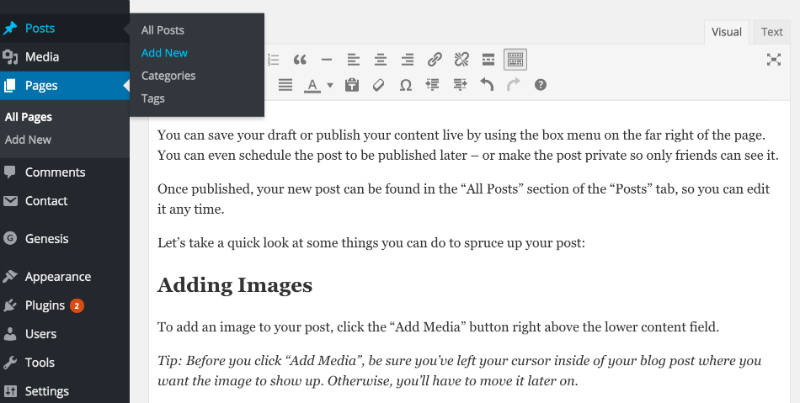 If you're not ready to Publish your Article at the same time, then Save it as a DRAFT and when it is fully Complete, then only PUBLISH it!
After Publishing your Article, share it on Social Media; such as Pinterest, Twitter, Facebook etc!
Adding a Link in your post/Page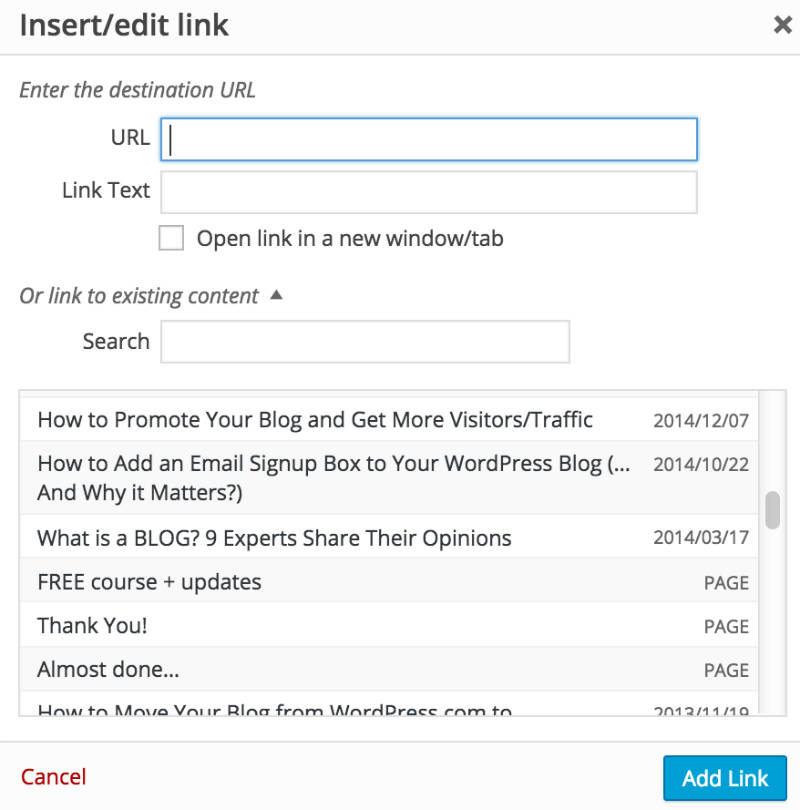 Submit your Blog with Google Search Console and Verify your Blog
Use Google Analytics to see Status of your Blog
Don't forget to share on Pinterest, which is very popular and you can get a lot of Traffic from there just for Free by Making your Pinterest Board and sharing your pins.
This is the only Guide you you'll ever need to Start your first Blog and Make Money Online!
How to Make Money with your Blog?
Question: Is it Easy to Make Money with your Blog or Tough?
Answer is Both, depends on How much your Blog is getting Traffic and how much efforts you're putting in it.
So with my personal experience, I have learned along the way since I am Blogging. Adsense doesn't work for New Blogs or can say those Blogs, which don't have much Traffic, they don't make much Money with Adsense. To make money with Adsense, you need a lot of Traffic.
Personally I don't like to use Adsense Ads, they make your pages look awful and they distract visitors from Reading your articles.
QUESTION: Those Blogs, which are absolutely New, is there any other way that they can start Making some Cash, at least to Pay for Hosting and Domain?
ANSWER: In that scenario, when Blog is totally New or not having much Traffic, then Affiliate Marketing works good in my opinion, because when someone comes to your Blog, they will Buy something, what your Blog offers.
Now, the question arises, which Affiliate Marketing is good?
It is very personal, which Affiliate Program you want to use and depends on the Nature of your Blog as Well.
I will write down the names of few:↓
Amazon Associates
Clickbank
Rakuten
ShareaSale
eBay
Flexoffers
And there are many more in the Market, so choose wisely!
After signing with any of the above or even any other host, start promoting their Products through your Pages and Posts. Even you can use their Banners as well, because most of Companies have banners too.
When someone Buy something through your Affiliate Link, then you'll get Commission.
Wow, now your Blog started to Earn!! Enjoy
Nowadays, we can read other Bloggers Income Reports, which they share and it's really interesting to Read other Bloggers' Income Reports that motivates you to keep working Persistently and Consistently for your Blogging Business.
CONCLUSION
There is no doubt that there are free Blogging Platforms out there, nothing is bad to use them in the beginning and learn. But once you learn and see your Blog is getting some traffic and adding value to the Community by sharing something useful, which can Solve their Problems. Then it is the time to be more serious about your blogging and Start on Self-hosted WordPress, where you can have more Control on your Website and more functionality to make your site look Beautiful.
Easy tutorial with steps to Start a Website