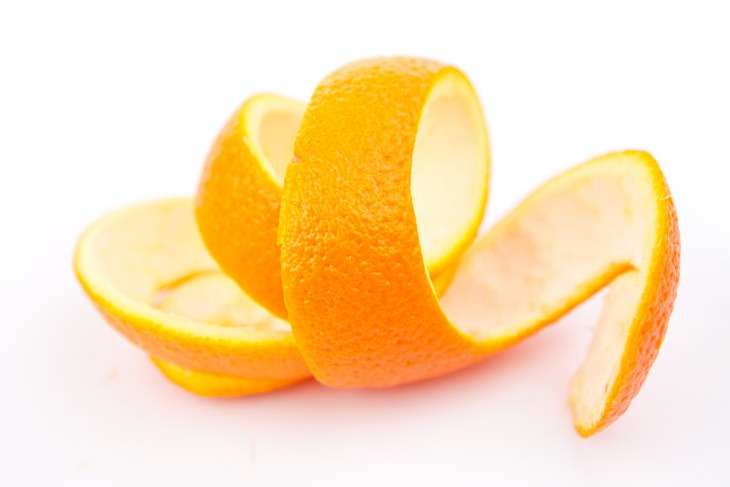 Orange peels have an unpleasant, bitter flavor and tough texture, which may be difficult to digest. They may contain pesticides and need to be washed before eating.
I don't eat Orange Peels, but recently I started to make Herbal Tea from it as well as I use it as a Body Scrub.
Oranges are one of the most popular fruits Worldwide and they are available whole year in almost all Grocery Stores.
Yet, other than for zesting, Orange peels are usually removed and discarded before the fruit is eaten.
While eating an orange peel might not seem very Appetizing or appealing.
Some reports suggest that the orange peel is actually the healthiest part of the whole fruit.
As surprising as that might seem, research tells us that Orange peels are rich in flavonoids and several other important phytochemicals that offer various health benefits.
More Benefits of Orange Peels
Brighten your face with Orange Peel Powder
If you want to brighten your face, then you don't have to go to Beauty Parlour and spend a lot of money.
Even you don't have to buy expensive Creams and use them to get Shining and Glowing Skin.
Making Orange Peel Powder is so easy and we can use it in many ways.
Eat Oranges or Make Orange Juice
Before using Oranges, soak them in water for 2-3 hours and then eat them in a Fruit Salad or make Orange Juice.
Don't throw Orange Peels in Garbage Bin?
After eating Oranges, don't throw their skin, but save them and dry in the Sun to make Powder from them.
More Benefits of Using Orange Peels
It is low in calories and a great fiber to put in Smoothies or to cut up and eat as a snack, but I never used in my Smoothies. Some people use Organic Orange Peel Powder 8 Ounce, which you can buy online.
 Orange Peel Powder is Rich in Antioxidants and Vitamin C, Best Flavor for Smoothie and Drinks. It has really Good Customer Reviews. Check Customer Reviews here?.
We can make herbal Tea with fresh Orange Peels. How to Make herbal Tea? For example serving is one person, then add one full Cup of drinking water and add Orange Peels after washing nicely. You can also add Green Cardamom, Saunf and Ajwain. Let it boil for 2 minutes, then strain and add honey if you want. Believe me it is really tasty and I make this herbal tea for my family.
You can whiten your teeth using Orange peels. The limonene in orange peels also works as a natural scent and solvent. This helps whiten your teeth in a Natural way.
Simply adding the peels in boiling water can freshen the air around you. In fact, you can inhale the air (steam) for relief from headache.
According to Ayurveda, orange peel helps improve digestion
Chewing orange peels or rubbing them inside teeth helps whitening as well as deals with their Sensitivity. I tried this 2-3 times (by the time of writing this article date February 29, 2020), immediately I've seen the difference in my teeth. I also use Banana Peel to brighten my teeth, which I'm using for last three years. About banana skin, strongly I can say that it works for teeth. Now I'll use Santre Ke Chilke too.
Orange peels help increase your metabolism and burn fat from your body. Many medical experts recommend orange peels as a cure to Weight loss.
How to Make Orange Peel Powder?
This is Orange Peel Powder in small glass bottle with lid close to Oranges, which I made from Orange Peels.
Orange Peel Powder face Mask
Below in the images, you can see face mask in the Clay Bowl.
I used here for this pack-Plain Yogurt, Orange Peel Powder, Turmeric Powder and mixed everything together to make this Pack.
How to use Orange Peel Powder?
First of all, wash your face with lukewarm water and then apply this Pack with your fingers or you can use Brush as well. Leave it for couple of minutes and then wash your face with the water.
Now gently clean with Towel and apply good quality Cream. You can see Instant result and use this mask on face 2-3 times a Week to see more benefits.
How to Make Orange Peel face Scrub?
Take 1 Spoon Orange Peel Powder
Take 1 Spoon Plain Yogurt
Take one Pinch Turmeric Powder
Take 1 Spoon Corn flour and mix everything together to make a thick Paste
Apply this Body Scrub on your whole body and massage gently with your hands. After 2-3 minutes take regular shower and use towel to clean your body.
You'll see that your body will become more soft.
I don't Use any Soap for last 3 years
It is even over three years that I don't use any body Soap while taking my shower.
What I use to Clean my Body?
I make my own body Scrub at home, which is simple to make and almost for free.
?Number One Method: I use Plain yogurt one spoon and Corn flour instead of Chickpea flour, Corn flour is more Coarse than Besan, which makes the Scrub more good to scrub the body.
?Number Two Method: Sometimes I use Plain Yogurt one spoon, Corn flour 1/2 Lemon Juice Squeezed at home.
?Number Three Method: Now just started two weeks ago using Body scrub made with– Plain Yogurt, Turmeric Powder, Corn flour and Orange Peel Powder.
These all three natural Body Scrubs we can use instead of Soap.
Question: How to Use these Body Scrubs?
Answer: They are so easy to use. First wet your body with water and then
apply any Scrub given above from three methods. Then massage your body gently and take shower like we do regular shower.
These all body Scrubs are made from Natural Ingredients that we can find easily in our Kitchen and we can make them almost for free, but the Rewards are Awesome.
MB Herbals Pure Orange Peel Powder 227g. 100% Pure & Natural Sun Tan Remover & Exfoliator | No Chemicals or Bleaching Agents.
Orange Peel (Citrus Aurantium) Powder by mi nature is All Natural, Vegan , Non GMO and good for Hair & Skin Care.
Many Benefits of Orange Peels