WordPress is an award-winning web software, used by millions of webmasters worldwide for building their website or blog.
My list of Pros & Cons of Using SiteGround's web Hosting for the last 5 Years
Site Ground is proud to host this particular WordPress installation and provide users with multiple resources to facilitate the Management of their WP websites.
Why to Choose Only Site Ground Hosting?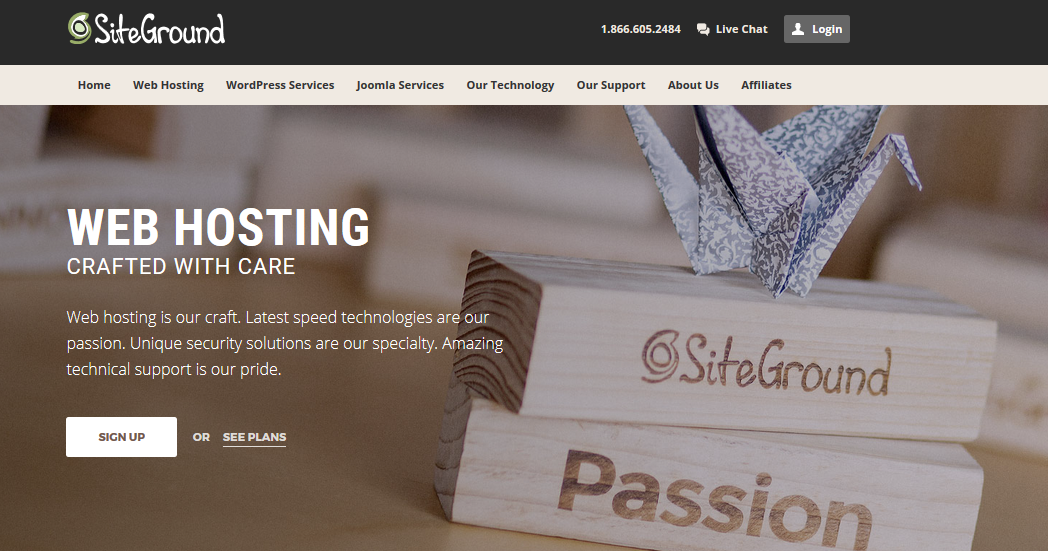 Site Ground provides superior WordPress hosting focused on Speed, Security and Customer Service.
They take care of WordPress sites security with unique server-level customization, WP auto-updates, and daily backups and make them faster by regularly upgrading our hardware, offering free CDN.
Also they provide real WordPress help 24/7!
Learn more about Siteground WordPress hosting
WordPress is considered an easy to work with Software.
Yet, if you are a beginner you might need some help, or you might be looking for tweaks that do not come naturally even to more advanced users.
Site Ground WordPress tutorials includes installation and Theme
Change instructions, management of WordPress plugins, manual upgrade and backup creation, and more. If you are looking for a more rare setup or modification, you may visit Site Ground Knowledge base.
If you would like to Start your Own Blog Quickly and Easily so that you can share your life experiences, promote a Business and even Make some Extra Cash, then you can learn here 'How to Start a Blog on WordPress'?
How to Start Easily WordPress Blog on Site Ground Host!
Starting your own Blog on WordPress is Easy and less Expensive in the long run rather than wasting your time on Free Platforms and building your Blogging Business.
I would like to clarify here one thing that, it is not bad idea to Start your first blog on Free Platforms at the beginning.
For example Blogger Blog, WordPress.com and other platforms. Good, you started and learned as well, but in my opinion, it is better, when you see that you're doing good in your Blogging Business, you're having some Visitors from search Engines; such as Google, Bing etc, then move to Self Hosted WordPress(here I am talking about WordPress.org) otherwise you'll lose your Blog anytime, because Blogger Blog, can DELETE your Blog anytime.
I was lucky that I had Backup with me, otherwise they would have Deleted my both blogs without giving me any notification.
So why not spend few Bucks and start with more Secure Platform?
And with WordPress.org you Host your own Blog or Website.
For example myRecipes with more Dot Com. My this Blog is Hosted on SiteGround and if you're interested to Start your own Blog anytime now or in future, you can use my Site Ground Referral Link Below.
Review and Buyer's Guide
Criteria to find the Top Host
Below is some of the Criteria, one should find in the Best Host and those all Site Ground has.
SSL

Up time

Security

Speed

SSL or Secure Socket Layer
In today's Post I'm going to Cover what you need to look for in an e-commerce Host and I'll Recommend One most popular nowadays host, who I believe through my five years of experience. They provide the best value for Money and that host is Site Ground.

Little More about Site Ground:
No Hidden Fees

24/7 Proactive Support

Instant Set-up

Automatic Updates

Daily backups to give you a peace of mind

Server Level Protection

Their servers are scalable so you don't have to worry about growth-pains

WordPress SuperCacher

30 Days Money Back Guarantee

Staging Area For Testing

Secure Shell, SSL, FTP, Stats, CGI, Ruby (RoR), Perl, PHP, MySQL
Now I am assuming that you want to start your Blog with Self Hosted WordPress, so in this scenario you will need to find your own hosting Service.
Benefits of Using Site Ground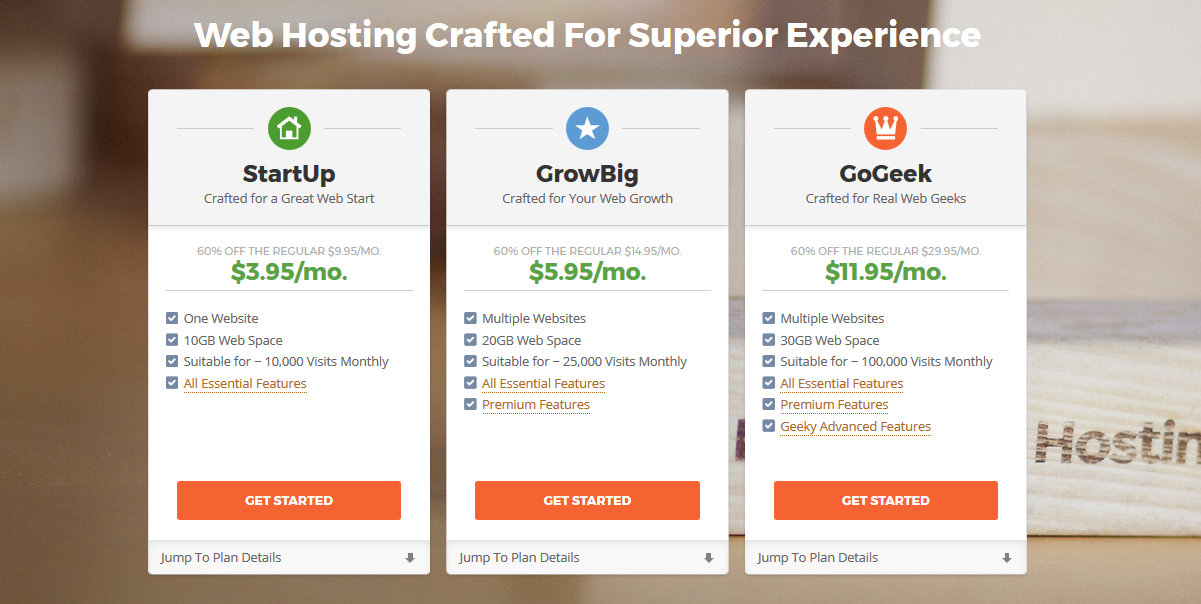 Site Ground Offers different types of Plans to Customers, so it is easy to choose according to your Budget and need base
Plans are very Flexible and Cheap as well
The Customers get to choose exactly which level of hardware and Software they need to host their Websites.
Up time, Speed and Performance
One of the most important and best Reason to choose Site Ground is the Uptime, Speed and Performance.
Many Hosting Companies Claim to give you Up time, Good Speed and Performance, but most of them fail to deliver the Promise.
Site-ground has 99.99 Up time!
As I am using SiteGround for last five years and I have noticed that it has no downtime.
SiteGround helps you with all types of hosting Needs and even they help you with WordPress Application.
If you're new and can't install WordPress, just Submit the Ticket, they will install your WordPress Application within minutes.
Plans Price is Reasonable
Pricing is one of the biggest Concerns for most Bloggers and it should be, after all Buying a hosting Plan costs you Money, even it is small amount, but when one is starting a New Blog, especially who is not Earning, makes a lot of difference.
When the price of a Good Host like Reputable Site Ground is Low, then it is more convenient for him to Start a Blog without any worries.
Start your Blog Today with SiteGround at Low Price!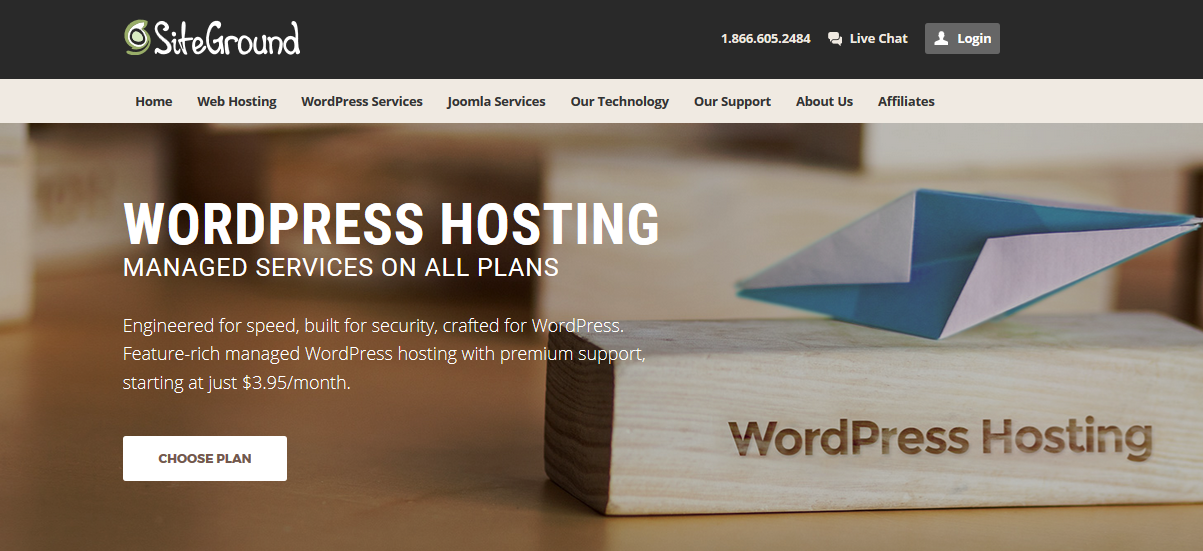 Site Ground has three plans and Start Up is only for $3.95 monthly, which is very Cheap for this kind of good Hosting Company and I think, who love to start his own Blog can afford this much low Price very Easily.
Grow Big is only for $5.95 monthly and it is also good price to move on, when your site having more Traffic. My Ease Bedding, and this Site, both are host on this plan and my Blogs are very Secure on this Plan.
Go Geek is so Cheap and only for $11.95 monthly.
Exclusive Recipeswithmore.com Site Ground Coupon
Join Site-ground Today and Save a lot for Your Initial Hosting Package & also Receive a Free Site Transfer! → CLICK HERE TO GET STARTED
Site Ground Support is Great Support
Site-ground has the Top Support.
Their 24/7 Live Chat is really amazing and very confidently I can recommend to choose SiteGround as a Hosting Company to Start your Niche Website.
Not only they help you with Hosting Related Problems, but also they help you with WordPress related Problems.
Couple of times I used some plugins, because my other Blog Ease Bedding used to have so many images in each Post, may be due to that or any other reason, some Plugins(Best experimental WordPress Plugins) gave me hard time and even crashed my site few times.
Their Team of Experts tried their best to find the root cause of the Problem and give you all Instructions to Correct it or if still you're not able to do it or you don't know How to do it? they're there for you to help and sort out the Problem.
So Start SiteGround at very Low Price now
Site Ground is Good to Go for WordPress, Magento, Drupal and PrestaShop
I love WordPress, but everybody has different taste.
So some people like other Soft wares. Such as; Magneto, Drupal and even Presta Shop to Create their Websites. Site Ground has Solution for all these Soft wares.
Site Ground is Recommended By WordPress
SiteGround is now the Official Recommended Hosting Company by WordPress.org.
Create Website or Blog with SiteGround in 7 Minutes!
Choose your Plan and Domain and fill your hosting information
Install WordPress Application
Choose Free Theme
Write your first Post
Your Blog is Online to Make Money with Affiliate Programs
Steps to start a Blog on WordPress
Actually starting a WordPress Blog takes only couple of minutes, as only seven minutes.
Today, I have an interesting offer for you.
If you're looking for ways to build a WordPress site that makes you thousands of Dollars every month, you will love what I am about to share with you today!
Starting a Blog with Siteground Hosting Company is Super Simple, actually only it takes a few Clicks.
Choose a Good Domain Name for your BLOG/Website

Sign up for a Hosting Package-Site Ground

Install WordPress from your cpanel

Choose a Theme for your Blog or Website(it is better in my opinion to choose free Theme) You know what? It is good idea to choose free Theme in the beginning and when you see your Blog is getting more Traffic, then you can change your Theme to Pro.

Start writing Valuable Content, as saying goes' Content is King'
STEP ONE: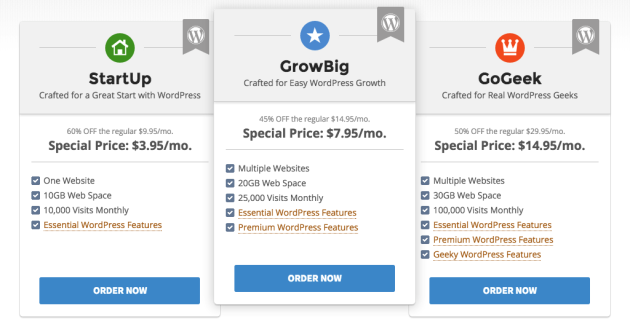 Choose hosting Package and if you're starting just new Blog, then Start Up Plan, which is so Cheaper to start with and when you think your Blog is getting a lot of Traffic, then move to Grow Big and even GoGeek.
STEP TWO:

Choose a Domain
In step two, you can Choose your Domain, either to Register a New Domain or 'I already have Domain' and even you can choose a Free Website Transfer from any other Hosting Company.
STEP THREE: Review and Complete
Just fill out all your Contact Details and Payment Information. Make sure you fill your information carefully.
INSTALL WORDPRESS NOW!
Because now you have Purchased your Hosting Package, so you're going to get Access to cPanel. Image looks like Below⬇
As you can see in the above Picture, there are many icons, which link to all different Services and Features that are available in your hosting Account.
You don't have to use all of them, just use only those, which you need and ignore others.
Installing WordPress yourself is so easy, but still you think it is tough for you, you can ask Site ground help, because their Service is so good.
Just Submit the Ticket and they will reach to you under 10 minutes, this I can say with my own experience after using Site ground for five years.
As you can see in the Below Picture, click Install and move further.
On this Page start configure your WordPress Blog Installation.
Every Step is Simple and straightforward. Here you have to do couple of Settings; such as:-
Choose Protocol:
Choose Domain:
Choose Directory:
Database Name and Table Prefix:
Website Name and Description:
Now your New WordPress Application is installed.
Change your Theme
Wow!
This is my favorite part, where you can install Beautiful New Theme from hundreds of Free Themes. You can choose, which ever you want to install.
Choosing a New Theme is Simple and interesting.
Just Login to your WordPress Dashboard and Go To:-
APPEARANCE→THEMES→ADD NEW and then go to Search Box to find a Theme, which suits your Needs.
There are so Many Free Themes available to choose from.
Choose & Install Theme from the WordPress Theme Directory
If you know the Name of the Theme, which you want to use for your Blog, then you can Simply Search for it in the Search Box.
Each Theme in the Official Directory has to have Tags, which describe its functionality allowing you to easily Search for the Right Theme!
When you like the Theme, then Activate it like at the below Picture⬇
That's it, you can start to write your posts/pages.
Create a WordPress Posts
Now you're ready to write your first Post!
Go To: Posts→Add New
Once you write Post Content, then Publish it and share it on Social Media.
Add Multimedia to WordPress Posts
Adding Pictures, Videos to your Posts is very Simple Task. ↓
Good Luck!
Don't forget to Share your experience with your first Blog and Siteground Hosting Company.
Siteground Vs Greengeeks!
Eco-friendly Green Geek hosting Solutions has very Cheap hosting plans are experiencing a boom in the Industry, but the Web hosting they offer does not match with Site Ground.
For example I have Three Websites with Siteground and planned to move one over to Green Geeks, but they were failed to move it.
As this is reply to my Ticket from Green Geeks Support Team,
Thanks for the update, I was able to login successfully. I was attempting to begin your migration for easebedding.com(jaswinder) however I am unable to create a cPanel backup due to the account size:

###############################################################
Full backup disabled!
The size of your account exceeds 5000MB. Creating a full cPanel backup of an account over 5000MB requires a lot of system resources and endangers the overall performance of the shared server. The integrity of such backups cannot be guaranteed.

This is why the Full cPanel Backup option has been disabled for accounts over 5000MB."
Then, I planned to continue with SiteGround all my Three sites and I am so happy with them due to their service.
Customer Support:

In Comparison to Site Ground hosting, Green Geeks is deficient of good Customer Support and even they Refund your money easily except Domain.

Pricing:

Certainly Green Geeks offers much lower prices than SiteGround.

WordPress Hosting:

Green Geek does not provide better hosting than Site Ground
In my Opinion Site Ground is much better than Green Geeks due to their Customer Service and Plans, which I can say strongly after using it five years.

SiteGround Vs Bluehost!
Blue Host is one of the largest and most trusted Web Hosting Services powering Millions of Websites around the World, which is Recommended by WordPress.
Customer Support: Both Web Hosts have good Customer Support and they have instant response to Customer Chat. One thing personally I really like about Site Ground is that they Migrate your Website free of Cost and took this Service twice from them and after Submitting ticket for transfer your site, within two-three hours they move your site without any problem at all. This Service is for New Clients only. But Blue Host does not provide this Site Transfer free of Cost.
WordPress Hosting:

Both hosting Companies are Recommended by WordPress.org as good WordPress hosts. But for sure Site Ground has advanced hosting Technology Installed on their Servers and personally I like again Site Ground after using both.

Up time Performance:

Both Web hosting Companies guarantee Customers of 99.9% Uptime, but SiteGround outperforms. For Blue host

Uptime is the concern.
Pros & Cons of using SiteGround