Hello friends! How're you all? I hope everybody is fine.
Here in Canada Today, On September 17, 2020, the weather started to change already and the days are now becoming cool day by day.
Especially in the morning, it is very Cold and we all, like to eat something special and healthy at the same time. I thought, why not share Potato Paratha Recipe with my Viewers.
Indian Aloo Paratha – whole wheat flatbread stuffed with a spicy potato filling. This paratha is best enjoyed with yogurt, pickle and butter.
Potato Paratha also called Aloo ka Paratha in Hindi and and it is so Easy to Make that anybody can make it. But most of us, we love this Paratha in breakfast.
You can eat it with Mango Pickle, Lemon Pickle, Plain Yogurt and even with Indian Masala Chai. My both sons and my husband love aloo ka paratha.
Ingredients for Aloo Paratha Stuffing
3 to 4 medium potatoes , boiled and mashed for stuffing
1 to 2 green chilies, chopped finely
2 to 3 teaspoons finely chopped Coriander green leaves
Salt as required
1/2 teaspoon Ajwain or Carom seeds
Cooking Oil(I use Extra Virgin Olive Oil) as required for roasting parathas
What is Indian Aloo Paratha?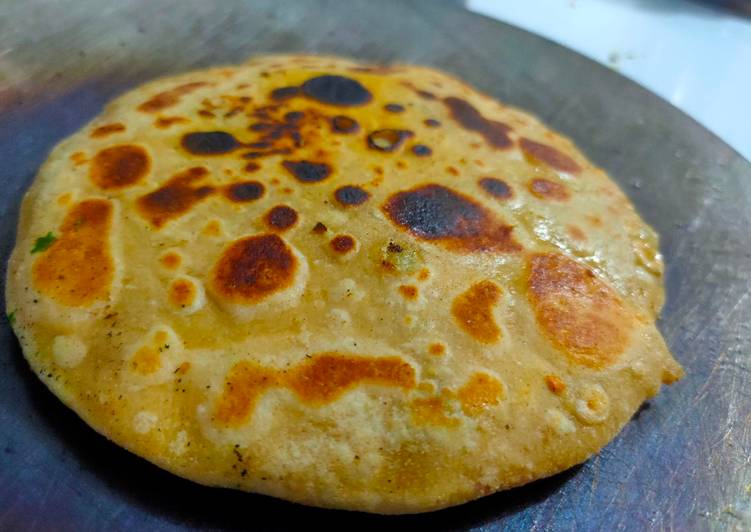 Aloo paratha is stuffed with spicy mashed potatoes with some spices and greens. It's usually enjoyed with butter, Makhni, yogurt, pickle or even with Tea.
My aloo paratha is just a basic simple recipe, which is made in every household in India. Just some boiled mashed potatoes, mixed with spices and then stuffed in the dough, which is then rolled and pan-fried. Some people like to grate the potatoes for more texture, I just go the traditional way and mash the potatoes.
One of the most repeated breakfast in my home is aloo paratha. Everyone loves it. Piping-hot crisp wheat flatbreads stuffed with spiced, faintly sour mashed potatoes stuffing and relished with some tangy sour mango pickle. What is not to love about aloo paratha. The best part of making parathas is that you can serve them for breakfast as well as pack them in the lunch box for kids.
Good Thing about Aloo Paratha
In Punjabi families, parathas are made with lots of love and affection and I'm Punjabi. However, you can add less ghee and even roast the parathas with oil or without Ghee. They're crispy and flaky and savory with a delicious filling of potatoes. They're kid- and adult-friendly. They're omnivore- and vegan-friendly. Even the pickiest eaters won't be able to decide whether to kiss your hands or lick their plates. They're actually good for you!
To make aloo paratha you need

To make delicious Aloo Paratha, boil the potatoes in pressure Cooker for 6 whistles and let the steam release automatically. Boil the potatoes 2-3 hours before making your Breakfast.
Before making the parathas, peel potatoes and mash them in a large bowl and put fresh chopped coriander, Pink salt, grounded black pepper, and chopped green chilli is optional. Also put 1/2 spoon haldi powder and mix everything nicely and make like a dough.
Now put this mixture(aloo pethi) in the fridge and Take them out from the fridge, when you want to make Parathas.
How to Make Dough?
Put wheat flour in a large mixing bowl. Add water gradually and knead into a soft dough. Make small-medium balls of the dough and roll them out into 3 to 4-inch circles. Add a spoonful of potato filling in the centre. Gradually press with both hands and then dust with dry flour and then press with rolling pin on all sides while making the parathas. Be very careful to apply pressure evenly. It is very important to ensure that your potato mixture is mashed well and not lumpy or you will never be able to make perfect parathas. Seal the dough and round it with your fingers. Now roll them with a rolling pin into round parathas. Apply the pressure very evenly and gently on all sides. Press very lightly so that the mixture does not come out.
Potato Paratha
Dough made from whole wheat flour – a basic dough is made with whole wheat flour and water. Making dough is very easy and you can either knead with hands
Potato stuffing – potatoes are boiled, peeled and then mashed. To the mashed potatoes, some herbs, spices and salt are added. The spiced mashed potatoes are then stuffed in a rolled dough and roasted or fried.
How to Make Potato Paratha