Dates are high in Natural sugars like glucose, fructose, and sucrose. The high energy present in dates can be attributed to this high sugar content.
Here in this article, we are talking about dates and benefits of dates for men, women, and kids. Today, dates are grown all over the world.
Dates are sweet fruits of date palm tree scientifically known as Phoenix dactylifera. They are one of the best versatile foods that can regulate the digestive process and have gained popularity in recent times.
Date palm trees are cultivated all over the world and especially across tropical regions. You can also use date molasses in your smoothies or desserts as a sweetener, because they are so sweet, as in my Dates Chutney recipe, I used only half spoon of Jaggery Powder.
Rich in various nutrients, fiber, and antioxidants, dates are popular throughout the world and are consumed as a dry-fruit.
My husband love dates and he eat a lot. I use dates in Shakes, Kheer, Panjiri, Jarda and also in Halwa.
Dates are beneficial in treating various conditions due to their anti-inflammatory, anti-oxidant and anti-tumor properties
For thousands of years, the date fruit has been the staple food of the countries in the Middle East and the Indus Valley. As per records, the ancient Egyptians had used the fruit to make date wine.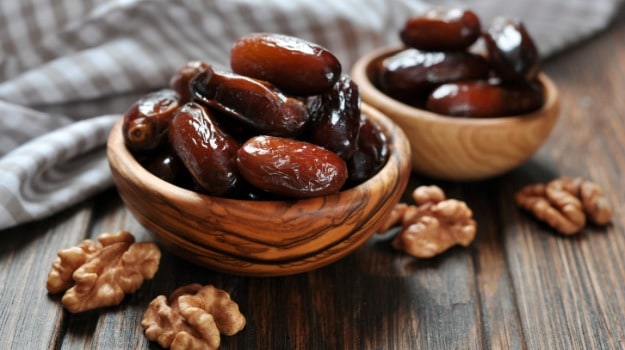 Dates are the fruit of the date palm tree, which is grown in many tropical regions of the world. Dates have become quite popular in recent years.
Dates also known Khajoor/Khajur in Hindi
Depending on the variety, fresh dates are fairly small in size and range in color from bright Red to bright Yellow.
Dates are chewy with a sweet flavor. They are also high in some important nutrients and have a variety of advantages and uses.
This article will discuss some health benefits of eating dates and how to incorporate them into your daily diet.
Benefits of Eating Dates
Excellent Natural Sweetener
Dates are a source of fructose, which is a natural type of sugar found in fruit.
For this reason, dates are very sweet and also have a subtle caramel-like taste.
They make a great healthy substitute for white sugar in recipes due to the nutrients, fiber and antioxidants that they provide.
Provide A Rapid Energy Source
Dates are comprised of a large proportion of simple sugars, being mainly in the form of Glucose and fructose, which are used heavily for energy by the body.
Consuming a few dates prior to exercise ensures that your brain and muscles have enough energy to perform at a high intensity.
Dates are also convenient to keep if you are a diabetic, as their sugars are rapidly absorbed into the blood for use in the case of an event where your blood sugar drops too low, too fast.
They should not be consumed frequently if you struggle to keep your blood sugar under control, as their generous carbohydrate content can add to your diabetes woes.
It is important to note that although dates are high in fiber and nutrients, they are still fairly high in calories and best consumed in moderation.
Dates have been claimed to have a few other health benefits that have not yet been extensively studied.
Bone health: Dates contain several minerals, including phosphorus, potassium, calcium and magnesium.
Blood sugar control: Dates have the potential to help with blood sugar regulation due to their low glycemic index, fiber and antioxidants. Thus, eating them may benefit diabetes management.
Improves bone health
Dates are Rich in Fiber and May Help Relieve Constipation
Dates May Promote Healthy Weight Gain
According to USDA, dates are rich in sugar along with proteins, and many other essential vitamins are a good addition to your diet.
How to Make Dates or Khajur Chutney?
Dates Chuney Instructions:
1-Soak dates in Cold Water for 7 hours
2-In Kadai put some Cooking oil and fry Mustard seeds and jeera Seeds
3-Add Soaked Dates
4-Add Spices-Pink or Black Salt One and half spoon, Red Chili powder, jeera powder and Black pepper according to taste
5-Add little bit Jaggery or Jaggery powder
6-Stir Continuously until all water is soaked to become thick paste
7-Let it cool for an hour and then grind in the grinder
8-Put in any Glass Jar and enjoy with Paratha or Chapati
Deliciou Dates Drink 2 minutes Recipe
If you're so busy and have no time to cook something healthy for Breakfast or lunch, then make this drink, which will make you full for two hours. Main Ingredient is Dates.
Amazing Benefits of Dates