Here in this recipe, I have used only green bell pepper, which is also called shimla mirch. I love capsicum or bell pepper sabji with aloo and not only me, so many people love this sabji, that's why you will find many different recipes like capsicum curry, capsicum rice, capsicum pulao etc.
We all love Potatoes and even Kids love potatoes, because potato is very versatile and makes the taste double of any sabji; such as aloo matar, aloo paneer, aloo Gobi etc.
Aloo Capsicum Instant Pot Recipe
The flavors of capsicum along with potatoes with simple home ground masalas, makes it delicious to eat any time of the day.
Aloo Capsicum Sabzi Recipe is a simple sabzi to make and it is delicious vegetable that is cooked along with the basic ingredients, which will be available in your Kitchen any time. The addition of onion, ginger, garlic and green chilly, makes the sabji more delicious to eat.
This can be side dish and is an amazing combination and Aloo shimla mirch goes very well with any raita or dal recipe as well, especially when you have few guests in your home. It is also quick and easy to make in Instant Pot.
This aloo shimla mirch ki sabji is my favorite and it is high on flavors. It is not only simple and quick, but also made with minimal spices.
I am Punjabi and bein a Punjabi, as I love Sarson ka Saag, the same way, I love this aloo shimla mirch ki sabji.
Today, I made this Aloo Shimla Mirch for lunch and my husband loved it so much and he ate 3 chapatis, means one extra chapati than usual.
Preparing Capsicum and Potatoes
I always soak my all vegetables in the water. You know why? Soaking vegetables in the water, helps to reduce the effect of chemical sprays.
So soak your two Bell Peppers, two potatoes, one tomato and green chilly in the water.
Then wash them in the running water thoroughly using a Steel Collard. Drain all the water after rinsing them well.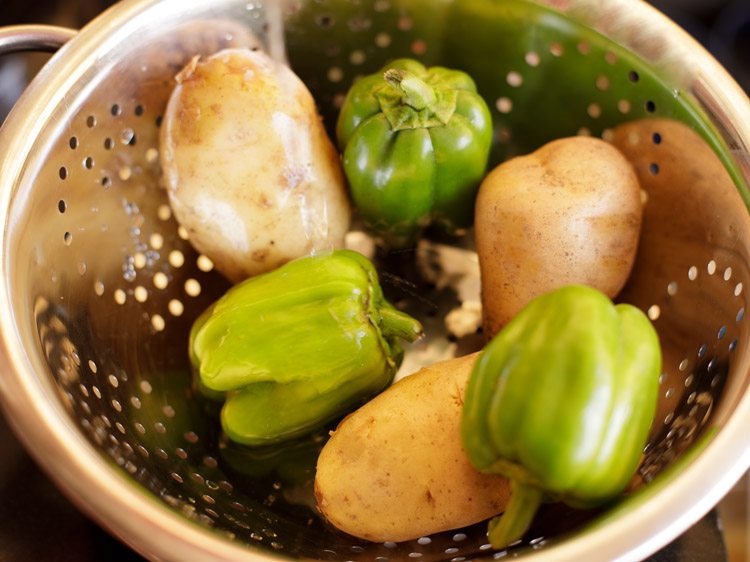 Needed Ingredients
2 tbsp. Olive oil
Half tsp cumin seeds
1/2 tsp turmeric powder
1 medium onion chopped
One inch piece ginger chopped
Two medium green bell peppers chopped
Two medium size potatoes without peeling cut into small cubes
One medium size chopped tomato
1/2 tsp coriander powder
Pink salt to taste
Instructions to Make Aloo Shimla Mirch
Chop the ginger, garlic, and green chilly
Chop the onions and green peppers.
Switch on Instant Pot at Manual for 25 minutes and dry roast Jeera and Methi seeds.
Now add 1 spoon Olive oil, and add chopped onions, garlic, ginger, green chilies and tomato. Stir and cook about one minute.
Now add Pink Salt, ground black pepper, ground coriander powder, oregano leaves and turmeric powder according to the quantity of the sabji, which you're going to make. Stir everything and add little water
Now add chopped shimla mirch and potatoes. Stir and close the lid
When the time is over, open the lid and if you see there is some water, then keep it open and again use manual mode and dry the water.
When the leftover water is dry, then turn off the instant pot.
Now garnish with some fresh chopped coriander. You can also use fenugreek dry or fresh leaves
You can serve it with plain chapatis and missi roti
Enjoy!😁😁😁😁